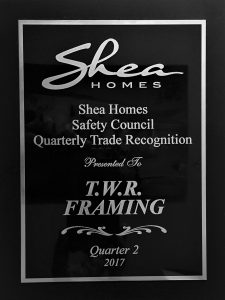 Shea Homes Safety Council Recognizes Scott Hamen and TWR's Safety Standards
The Shea Homes Safety Council has recognized TWR with their Quarterly Trade Award thanks to the hard work of TWR's very own Scott Hamen. Upon thorough inspection, the Safety Council found Scott's job to be 100% compliant with their safety standards. Thank you Scott, for maintaining both TWR's and Shea's high safety standards!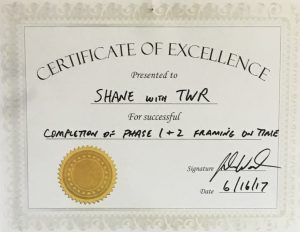 Shane Sanchez awarded "Certificate of Excellence" by RSI Communities
RSI Communities was impressed with the timeliness of another TWR foreman – Shane Sanchez. Shane earned RSI Communities' "Certificate of Excellence" for completing the first two phases of his job on time. Great work Shane, we appreciate your hard work!