As an employer, we accept the responsibility for the leadership of a safety program, its effectiveness, improvement, and the task of providing the safeguards to ensure safe working conditions.
Safety
Safety
Establish and maintain a safe environment for employees
Conduct safety inspections to locate and correct unsafe working conditions or practices, to control health hazards and to comply fully with the safety and health standards for every job
Training all employees in good safety and health practices
Investigating promptly and thoroughly every accident to locate the cause and correct the problem so it won't happen again
Promote and recognize safety consciousness and responsibility
Training & Certifications
Employee Training and Certifications
General construction safety
Hardhat and safety glasses use training
Heat illness prevention safety training
Ladder use safety training
Saw use safety training
Pneumatic nailer use safety training
Fall protection safety training
Portable fire extinguisher use safety training
Global harmonization systems safety training
Foremen are Additionally Trained and Certified
CPR/first aid certified
OSHA 10-hour training
Forklift operator training and certification
Harassment training
Compliance & Communications
Employee Compliance and Communications
In order to continuously reinforce our program objectives we utilize several methods of communication with our employees after their new hire orientation.
Weekly tailgate safety meetings
Regular job site safety evaluations with refresher training
Monthly check attachments on a safety hot topic
Providing employees the necessary tools to do their jobs while complying with all the rules and regulations while continuously practicing safe work habits is an important part of the TWR process.
Fall Protection System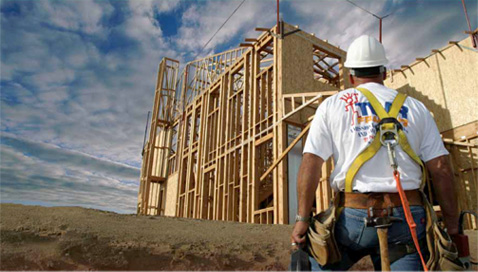 TWR Develops Proprietary Fall Protection System
TWR has been in the construction industry for over 30 years and has been contracting with multiple builders, supplying general framing services associated with multiple floor plans in communities throughout Southern California. TWR has approached their safety program with the same commitment of quality and achievement as their work product.
The formal terminology for this technology is a Catenary Line Fall Arrest system, which meets the Cal OSHA standard for an active PFAS system. Cal OSHA has evaluated the Catenary system numerous times; the installation and implementation has met or exceeded Cal OSHA standards.
TWR is a proactive contractor and a leader in the framing contracting business with the following safety initiatives in place:
A structured safety program that emphasizes employee training and retraining as needed
Implementation of internal site inspections of work sites
Developing innovative safety technologies to meet regulatory standards
Continuous improvement of safety technologies
A positive relationship with Cal OSHA presents TWR as a leader in site safety for the worker
TWR received the 2009 Safety Award for Excellence (SAFE) for their Cal OSHA Approved Fall Protection System. Read more on the news page.